Contact
Robbie Wright, M.D., PLLC
4550 Post Oak Place Drive, Suite 320
Houston, TX 77027
Office Hours: Monday-Friday 9am-5pm
Office Line 713-622-5480
Office Fax 713-622-7381
Email Dr. Wright's Practice
This form is for NON-MEDICAL communications only! If you have a question regarding your medical care, please call our office. Thank you.
IF THIS IS AN EMERGENCY, CALL 911 IMMEDIATELY!
(Please note that this page is not secure and is not intended to convey sensitive information.)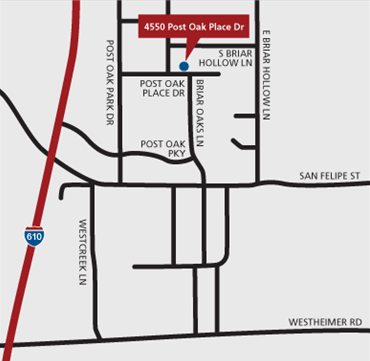 Driving Directions:
We are located inside the 610 loop, just off of San Felipe.
When exiting 610 Loop, go east on San Felipe, make a left on Briar Oaks Lane, and a right on Post Oak Place Drive. Our office can be most easily accessed if you enter on the East side of the building and take the elevators to the 3rd floor. Our suite (#320) is immediately to your left when you exit the East side elevator.